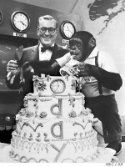 J. Fred Muggs
(right)
Who:
First simian host of the
Today
show. (Second: film critic Gene Shalit.)
Pros:
A broadcast pioneer, breaking the notorious banana ceiling. If he were still working, his commentary for the recent Olympics broadcast would have been much better than that of Bob Costas. Painted cover of
Mad magazine
. Contrary to rumor, didn't bite Martha Raye.
Cons:
Did, however, bite Al Feldstein, editor of
Mad
magazine.
Per Wikipedia
(whence all info in this post comes), a Russian newspaper described Muggs as "a symbol of the American way of life. … Muggs is necessary in order that the average American should not look into reports on rising taxes, and decreasing pay, but rather laugh at the funny mug of a chimpanzee." In that way, he served the same function that
Keeping Up With the Kardashians
does today.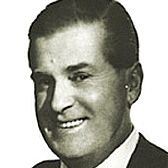 J. Fred Coots
Who:
Songwriter.
Pros:
Wrote or co-wrote the standards "Santa Claus Is Coming to Town," "You Go to My Head," "Love Letters in the Sand," and "For All We Know."
Cons:
Not the "For All We Know" that the Carpenters did. That was Fred Karlin, Robb Royer, and Jimmy Griffin. May have bitten Martha Raye (although I just made that up.)
Winner:
Are you kidding? J. Fred Muggs, of course. He was a chimp who co-hosted the
Today
show!