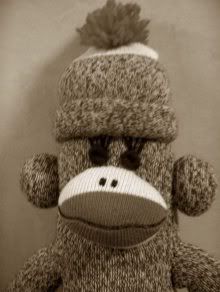 Look into my eyes. You are getting sleepy, very sleepy ... Your eyelids are getting heavy, so heavy you cannot keep your eyes open. You try to get up from your chair, but you can't. You feel heavy, heavy, as if you can't move, like you just ate combo meal #5 at Taco Bell.
You are under my control. You will do anything I say.
Now,
give me that banana.
Note: A rerun of the first sock monkey post, from January 2006.