Since last year's painful election, it has become obvious that there are two Americas: Those who believe there are two Americas, and those who do not. Those who believe in science, and those who believe dinosaurs walked with man as late as 1973. Those who prefer puffed Cheetos, and those who prefer crunchy. Those who believe that the Tom Cruise/Katie Holmes union is a sham, and those who ... well, there are a
few
things that unite us, but never mind.
This schism is demonstrated in the first-ever
poll at The Velvet Blog
, conducted last week. A whopping six of you voted: Three agreeing to take part in the poll and three declining.
The current U.S. population is approximately 295,800,000. Using state-of-the-art software* and extrapolating the data--much like the Nielson TV ratings people do**--that means 147,900,000 Americans would, if given the chance, take part in TVB polling, and 147,900,000 would not.
The implications are staggering--as am I, because I'm under heavy sedation.
Based on these poll results, expect to see the following in the coming few years:
--Continued confusion over which type of Cheetos is better will remain, though it should be obvious to anyone with half a brain that it's the crunchy variety
--Ronald Reagan will not seek re-election as governor of California
and, most especially:
--There will be mass indifference to TVB polling.
*Actually, the calculator on my PC.
**Did you know that what stays on TV is determined by two bored housewives, one teenager, a parakeet, and a monkey? It's true--look it up.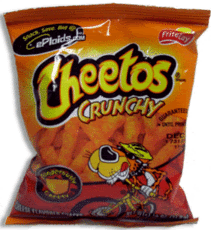 Superior crunchy
Inferior puffed