In this corner: The Aristocats
Premise:
The beloved, pampered housecat of a retired opera star in 1910 Paris finds herself stranded in the countryside with her three children, the victims of a plot by their owner's butler to cheat them out of a huge inheritance. They must find their way back to their home and owner, with the help of an independent-minded tomcat and other animal accomplices, while evading the butler and foiling his plan. (Via
the IMDb.)
Pros:
Better than
Catwoman
.
Cons:
Made at the time when Disney animation was really getting crappy. Plus, I once had a strangely realistic dream that I was being smothered by a cat, so this brings back some really bad memories.
And in that corner: The Aristocrats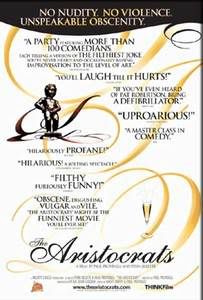 Premise:
The filthiest joke in the world,
told over and over and over again.
Pros:
C'mon, it's the filthiest joke in the world!
Cons:
While filthy, it isn't actually, you know, funny.
Winner:
A draw, if only because I hope that one day, some clueless parent goes into Blockbuster to rent his kid
The Aristocats
and comes out with
The Aristrocrats
by mistake. Now,
that's
comedy.