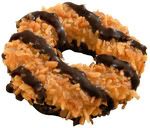 Samoa
What?:
The best cookie sold by the Girl Scouts. Caramel. Chocolate. Coconut. Cookie. Are you drooling yet?
Pros:
Chewy texture. Taste. Sheer sweet deliciousness.
Cons:
If you ate a whole box, there go 1,050 calories. Not that I ever ate a whole box. Really. But I'm just sayin'.
Samoa
What?:
Pacific island known for its beautiful beaches.
Pros:
Seriously, are you looking at that picture?
Cons:
Facial tattoos
are kind of scary. Island is not named after the cookie, which is surprisingly hard to find there.
Winner:
I'm going to have go with the cookie.