I
swear
to you that last Friday, if you ran a Google search on
innovative election reform
, the eighth hit was my idea to abolish the Electoral College and instead install
Election Monkeys
.
Now, not only is that post not on the first page of hits, it doesn't seem to appear in search results at all.
Conspiracy????
And for a moment there, I was
so proud
to have raised the level of political discourse in this country.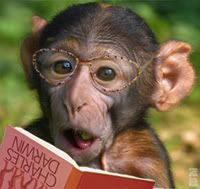 Would you trust this Election Monkey?
(I think I swiped that photo from the
Biomes Blog
, but I'm not sure.)