I think I'm sensing the beginnings of an advertising trend.

First,
Charmin
started advertising with bears. I can only assume this was meant to answer the age-old question, "Do bears poop in the woods?" Yes, they do, and they use Charmin. Who knew?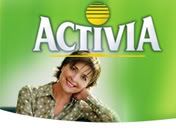 Now there's
Activia
, a new yogurt from Dannon (or, as it's known in the rest of the world, Danone). Oh, the reference in the ads is a bit veiled. Two young women--college, perhaps?--debate whether to go out for the night or stay in because, it seems, one is "bloated," apparently a code word for constipated. But the other has good news: She's been eating Activia for two weeks and, um, she's not bloated at all, because the yogurt speeds up "slow intestinal transit" and "helps regulate the digestive system."
The problem is, the approach is so oblique that it takes a couple of viewings to even get the point of the ad.
So, c'mon, Activia, just be up-front about it, like Charmin, and feel free to use the subject line of this post as your new slogan. I won't even charge you much.