A Scrunt would do anything to kill a Madam Narf--even fight his fear of the Tartutic. --The Lady in the Water

It was just around the time when the giant eagle swooped out of the greater Philadelphia night to rescue a creature called a narf, shivering and nearly naked next to a swimming pool shaped like a collapsed heart, that I realized M. Night Shyamalan had lost his creative marbles. --Manohla Dargis on The Lady in the Water
In case you're trying to keep this straight: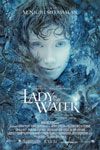 Narf

Narf!