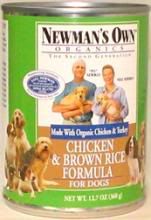 OK, I cracked up when I saw this on the shelf, but I bought one and now it's Freddie's favorite.
In a comment about the mad-cow post below,
the Fanactic Cook
asks: "And did I hear said this mad cow was sold as pet food?"
Yes, says the
New York Times
.
Freddie, it looks like you'll be eating organic dog food from now on.
*There's a very indirect Firesign Theatre reference here. Anyone who gets it will be awarded my undying admiration.