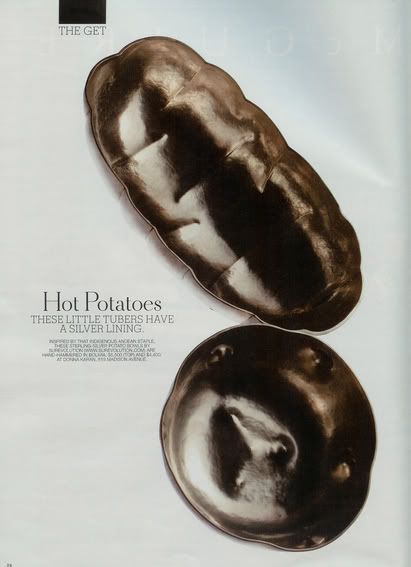 From the
New York Times Style
magazine, May 7, p. 28:
THESE LITTLE TUBERS HAVE A SILVER LINING Inspired by that indigenous Andean staple, these sterling silver potato bowls by Surevolution ... are hand-hammered in Bolivia. $5,500 (top) and $4,400 at Donna Karan ...
From
CAFOD
:
Bolivia is the poorest country in South America and the third poorest in Latin America, after Haiti and Nicaragua. Average income per head in 2003 was just $900 (£525).
Putting aside the obscene expense for a moment, is it just me or does the top one look more like a pod from
Invasion of the Body Snatachers
than a potato?