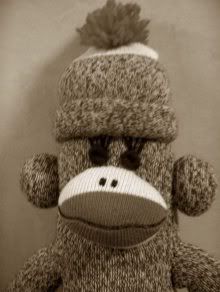 Thanne is it wysdom, as it thynketh me,
To maken vertu of necessitee,
And take it weel, that we may nat eschue;
And namely, that to us alle is due.
Now,
giveth me thy banana.
I wish Blogger used tags, so all sock monkey posts (and Handy Visual Guides, Smackdowns, and other recurring features) could be in one place.
But since it doesn't, here's a rundown:
If sock monkeys were White House press secretaries
... gave State of the Union addresses
... were Freudian psychoanalysts
... were hypnotists
... wrote haiku
... were blowhard television pundits
Boy, can I run a gag into the ground, or what?